File download
<root>­/­parties­/­2004­/­bcnparty04­/­demo/the_very_best_of_lobstarrs_200%_coders_mad_curry_limp_ninja_minimalartifact_progress_stravaganza_tpolm_etc(real_partyfinal).zip
File size:

6 142 042 bytes (5.86M)

File date:

2004-11-02 23:09:10

Download count:

all-time: 2 325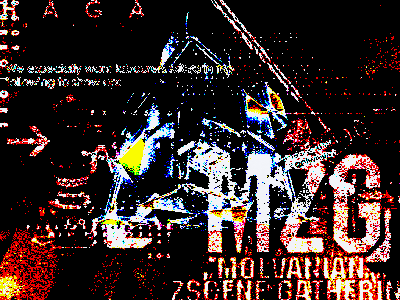 Preview
bass.dll

95.05K

data/

dir

data/bg.jpg

9.65K

data/black.png

170B

data/Box01.mesh

726B

data/Box02.mesh

45.59K

data/Box03.mesh

726B

data/Box04.mesh

726B

data/Box05.mesh

726B

data/Box06.mesh

45.59K

data/Box07.mesh

45.59K

data/Box08.mesh

45.59K

data/Box09.mesh

45.59K

data/Box10.mesh

45.59K

data/Box11.mesh

45.59K

data/Box12.mesh

45.59K

data/Box13.mesh

45.59K

data/Box14.mesh

726B

data/Box15.mesh

726B

data/Box16.mesh

726B

data/Box17.mesh

726B

data/Box18.mesh

726B

data/Box19.mesh

726B

data/Box20.mesh

726B

data/Box21.mesh

726B

data/Box22.mesh

45.59K

data/Box23.mesh

45.59K

data/Box24.mesh

45.59K

data/Box25.mesh

45.59K

data/Box26.mesh

45.59K

data/Box27.mesh

660B

data/credz.png

33.32K

data/cubetex.png

15.85K

data/dark.material

157B

data/electrocube.scene

13.31K

data/end.png

5.72K

data/env.jpg

2.26K

data/feebleminded.mp3

3.68M

data/kgblogo.png

78.88K

data/kgblogo_.png

78.88K

data/light.material

158B

data/load.png

28.51K

data/mat.material

161B

data/newlogo.png

89.29K

data/noise.png

224.59K

data/overlay.png

29.71K

data/overlay2.png

102.12K

data/PANTOFFELDIERTJES_ARE_GOOD

163.53K

data/tekstkube.mesh

968B

data/tekstkube.scene

562B

data/text0.material

237B

data/text0.png

5.72K

data/text1.png

9.38K

data/text2.png

9.11K

data/text3.png

8.88K

data/text4.png

4.45K

data/text5.png

6.57K

data/text6.png

8.68K

data/text7.png

10.58K

data/text8.png

10.09K

data/text9.png

6.55K

data/textdritt.material

270B

data/tunnel.material

156B

data/tunnel.mesh

12.86K

data/white.png

170B

infofile.txt

405B

the_very_best_of.exe

504.00K
file_id.diz
"THE VERY BEST OF"
by LOBSTARRS, 200% CODERS, LIMP NINJA, MAD CURRY, THE MASCULINE BRIGADE, MINIMALARTIFACT, STRAVAGANZA, ETCETERA

plek and mnemonix are the absolute rulers of your fucking gamma ramp lame cancer fuckers!!!

(and skrebbel synced)


we rule, you suck!
come to MZG 05: http://www.scene.org/~ps/mzg  (and to incerciademoparty05)


this is the final! the credits are now readable!